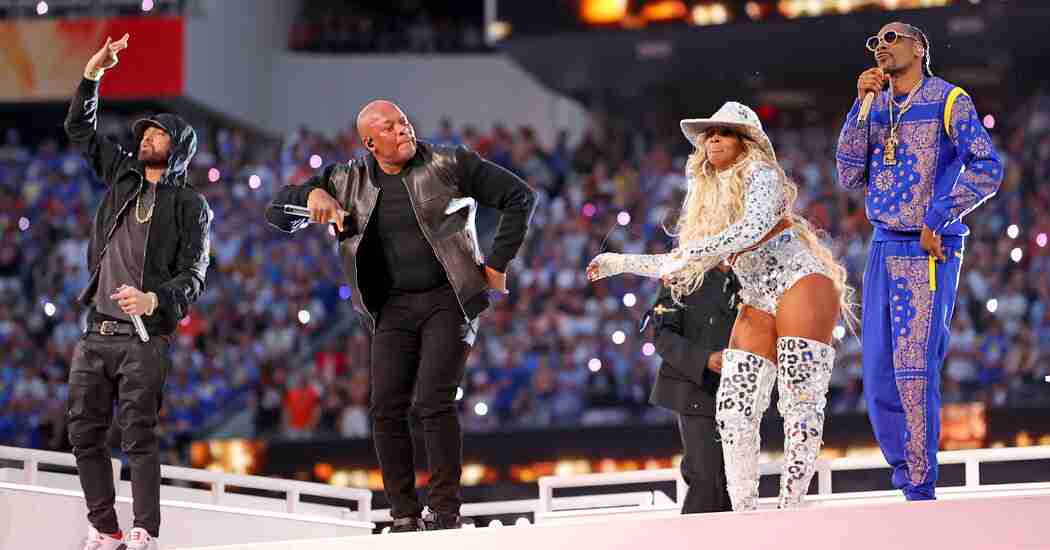 Everyone had great expectations from the NFL championship game aka the Super Bowl and not just the bowl but especially the halftime show. It's all because that's where we get to see the creativity. In outfits as well as in the game.
The undefeated
The moment LA Rams lifted the game, we knew, things are about to get crazy because they had their eye on the prize, on the other hand, Bengal played quite well. But here's the thing, there can only be one winner. And that winner would have to be the Rams! Hands down, we don't think anyone other than them deserved the win. They last played in 2019 against the New England Patriots and unfortunately lost it. We can see the effort this time.
Couldn't be unnoticed
Apart from the game, other things need to be mentioned too such as the halftime show and all the celebrities who made it sure they aren't going to be unnoticed. We'll talk about that later because right now our focus is on the performers of halftime. Oh and also their outfits. Because fans did not go crazy just for the game but there were outfits like blue bandana tracksuit that stole all the attention.
However, people are curious to know about each outfit but we might need another whole day to discuss that because we have already a lot on our plate at the moment. So why don't we jump straight into it without any further delay? We suppose you liked the idea.
If we consider each halftime show since the year 96, this year would be an exception and we are not saying this out of courtesy but course because of the efforts that have been put into the making of the whole show and not just the wardrobe. In the past, this part of the game was just a break and not fun at all. But things started to evolve over time and now we are here.
What's the hype is about?
People want to know from where they can get Super Bowl Halftime Tracksuit that's been worn by Snoop Dogg. And with each search, his attire demand is getting higher. Hence, you can find it pretty much on any website. But that's not something you should be worried about, instead, you should check out if it is worth buying or not. Because many times online purchases don't get too well.
We are not saying you shouldn't be buying things online but you should try an authentic online store. Whose sole propose is to serve you the best quality products like snoop dogg blue tracksuit in the best of conditions. Before you order a celebrity-inspired dress, we suggest you go check its specification and description thoroughly so that you won't regret it later. 
Snoop started trending on social media due to his vulnerable choice in clothing and that's nothing new. He never hesitates to try on new things and we think you should do the same. What are you afraid of? What people might say? C'mon the most they'd say; look at that man or woman. And then, they will forget. You have free will and people should never tell you otherwise.
Andre Romelle aka Dr. Dre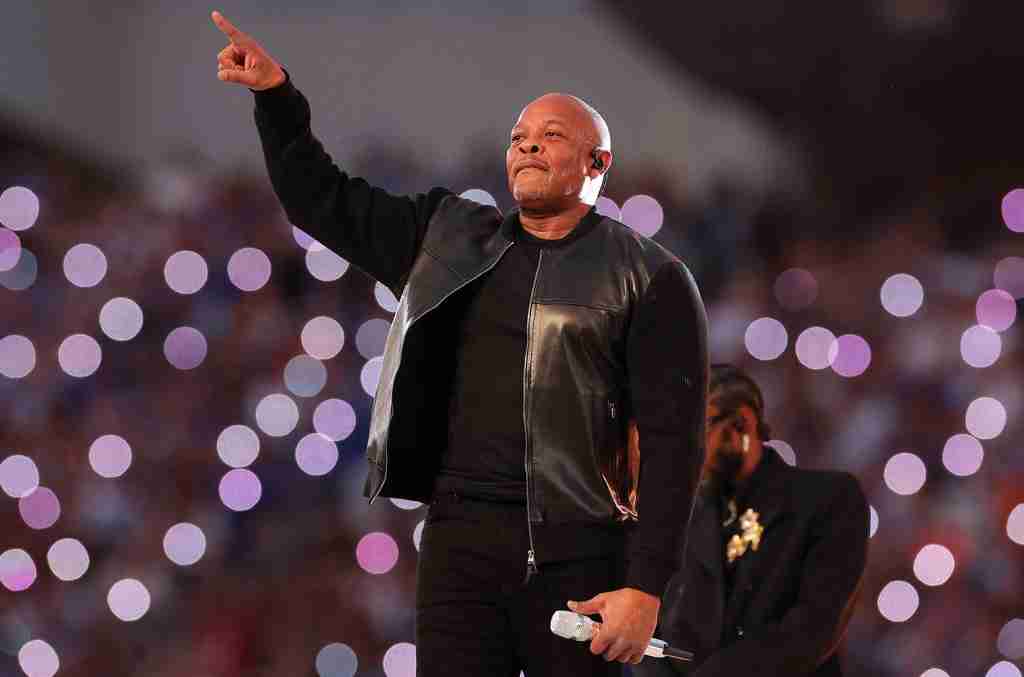 Moving on to dr dre super bowl jacket, as we all know that he is a man of taste. His real name is Andre Romelle Young. He is an American record producer, entrepreneur, and rapper. Dre was as much present in a super bowl as his jacket but due to some reasons, a jacket made it to the headlines. Maybe people suspected it was an outclass piece of clothing. And we know how much fans love it when their favorite celeb comes to the stage all dressed up and perform to show support for their teams respectively. Andre also got to perform in his simple black jacket and he did not put much effort to look great because he knows, he doesn't need that. 
Anyways, if you are wondering Where to buy this elegant black leather jacket then we can make some suggestions about that too. Just keep one thing in mind, always choose authenticity over anything. Certain tricks can help you figure this out. And if you follow them accordingly, you can become like those professional online buyers who hardly step out of their houses.
Snoop Dogg — let's steal the show! 
Once you land on an online clothing store, directly go to the reviews section because that's where the truth is. If you see consumers are satisfied and happy with their purchases then you are all set to place your order for your favorite jacket just like Snoop Dogg Tracksuit.
Do you know that it took three decades for the super bowl to finally return to LA? Yes, that's true. And SoFi stadium is technically a home ground for LA Rams. You get a little patriotic when you are playing on your ground. Aside from that, there was an exceptional performance of famed deaf musicians Warren "Wawa" Snipe and Sean Forbes too. Sounds interesting? You should have watched it live because nothing could be more delightful than that in the history of the super bowl halftime show. There were too many Hollywood artists that sometimes it feels, it should be named Oscar halftime show! Jk… just like any other typical fan, they were there to support their team.
Eminem — the casual one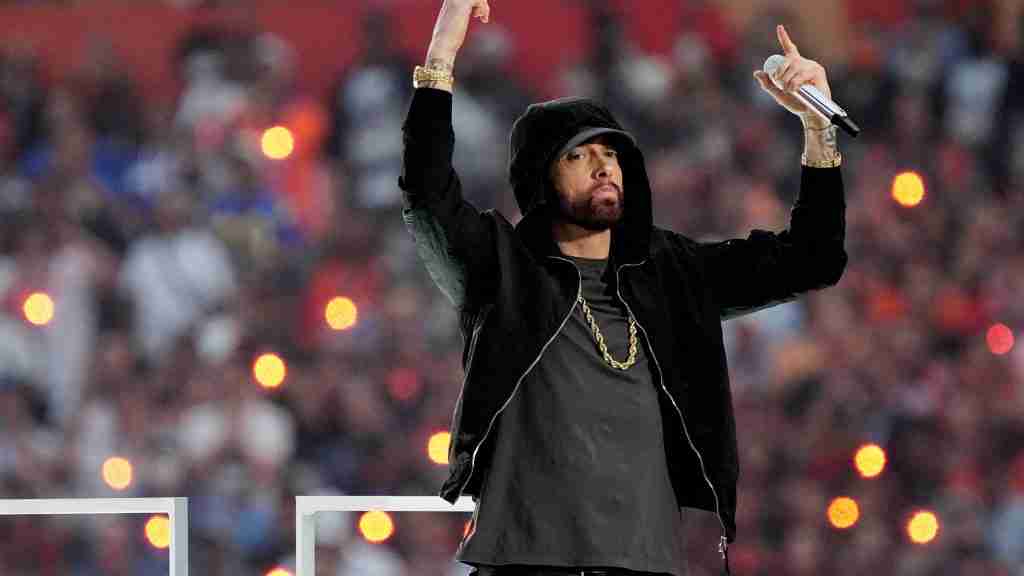 Eminem super bowl jacket got the same appreciation his performance got. Although he made a statement after the show that it was nerve-wracking. Now you can assume, an artist who has performed almost all over the world and in front of some of the huge crowds, if he says it, there might be a reason for that. And we know what that reason is. It's the pressure, the game, live TV, and all the artists you are sharing your stage with. Anyone can get nervous and it has nothing to do with being a celebrity. Anyhow, he still managed to put on a great show. Talking of his black jacket, you can easily find the one that looks exactly like the original one in physical stores as well as in online stores. 
It's not hard to find things but the tricky part begins when you have to carry it, then you get stuck and that's okay. We can guide you through that too. Just like Eminem kept it casual, you can do that too. Get yourself a cap because you might be needing it to wear beneath the hood which is attached to the jacket.
Kendrick Lamar — Man in black
Tell us that we aren't forgetting Kendrick's Outfit. Because he can be declared as the man of the evening due to the pitch-perfect style he carried during the halftime show. Jewelry, glasses, and whatnot. It's like he wanted to own the show and he did in some ways. For those who are wondering, what he was wearing. Well, it was a custom design by Louis Vuitton.
We know, it gets tough to manage your signature style and class when you are surrounded by the competitions like Dre, Eminem, and Snoop Dogg. But Kendrick does not forget that he is known as one of the most influential rappers. Do you know what does that means? That means, everything you do is going to influence people in different ways. So you gotta make sure you don't do anything harmful. He is also a member of black hippy, which btw is a supergroup of hip hop.
A little history
It took him lots of time to build such an image and he is still maintaining it even after being one of the best rappers in their world. Many people got out of control when they are being introduced to success and fame, only a few can handle and use it in a good way. Kendrick is one of them.
Before we lost track, let's talk about his overall appearance. The first and foremost question is, is the best place to find this complete outfit? Well, as we have told earlier that it was a custom-made outfit by Louis Vuitton, so you might not find it that easily but the internet is quite huge and there are lots of websites that have celebrity dresses For Sale.
If we had to rate it Kendrick's look on a scale of one to ten it could have been a ten but as compared to other fellas like Snoop Dogg and others, we can't even do that because it will be unfair. Everyone tried their best to look flawless hence everyone is a winner here. Even Cincinnati's too. Although they did not win the game the most important thing is to accept defeat as just the way to cherish victory. Who knows, you get the trophy next time? Keep the heart safe for now that you have won!
Wrap up!
To cut it short, all of these outfits have been worn by the super bowl halftime performers and each of them is receiving a lot of love and appreciation. Not only for the attires had they on but also because of their performances and their positive attitude. You can find these dresses online just be fast because you are not the only one looking for them.