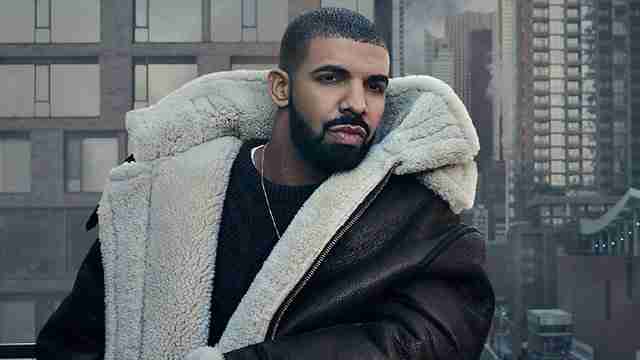 Winters are around the corner, and that mantra of comfy and warm clothes is definitely irreplaceable. Searching entire virtual stores and jacket outlets to find the sophisticated and trending piece of garb for the winters- no one can understand this anxiety better than fashionistas.
Apart from a fashion statement, winter garments also portray an attribute closer to warmth and style. Be it the men or women, everybody wants to slay his apparel like nobody else. This could initiate a kind of cold-war though everyone wants to stand out from the crowd with his stunning and ravishing style of clothes.
Keeping it to the wardrobe of men, sympathies for them as they have a very limited choice of clothes. From the fabric of the garment to the style of the dress, men are left with a narrowed selection for their outfits.
As the winters are approaching very soon, this has become essential for every person to find his perfectly comfortable outfit that is not only warm but is also elegant enough for the chilly nights.
In this article, we have broken down 5 phenomenal and highly sumptuous shearling jackets especially designed for men with keen fabrication and neatness. If you are searching for a type of garb that is not only cozy and comfortable but is also classy and stylish then nothing can go better than a shearling jacket.
SHEARLING JACKETS – YAY OR NAY?
You must have been wearing denim and leather jackets in winters and would have been trying to keep yourself as much warm and comfortable as possible. However, these shearling jackets have got their separate fan base, and wearing them to the get-together and casual parties is quite an amazing idea.
This attire is simply a kind of coat or jacket that is manufactured from processed lambskin or sheepskin. The shearing process helps in the creation of in-depth uniform woolen fibers that further enhance the look of the jacket. Such coats and jackets are made with pelts that are tanned with wool for the uniform yet elegant appearance.
Wearing a shearling jacket to the work or donning up in a brown shearling coat for a coffee date, a shearling jacket is always a win-win and would give an instant boost to your personality. From very casual to very formal, shearling jackets are a fairly comfortable and go-to kind of option.
TOP 5 SHEARLING JACKETS FOR MEN:
Are you looking to add something comfortable to your add wardrobe?
Do you know what a shearling jacket is?
Have you been trying hard to look classy with your shearling leather jacket?
Well, don't worry as we have got your back and we are going to help you with the selection of shearling jackets. Keep on reading this blog post to find the top 5 shearling jackets. Shearling jackets and coats are dominating the fashion industry like never before and people are becoming more vigilant about their appearance and looks! Have a look at the top 5.
1941 Pearl Harbor B-3 Bomber Jacket: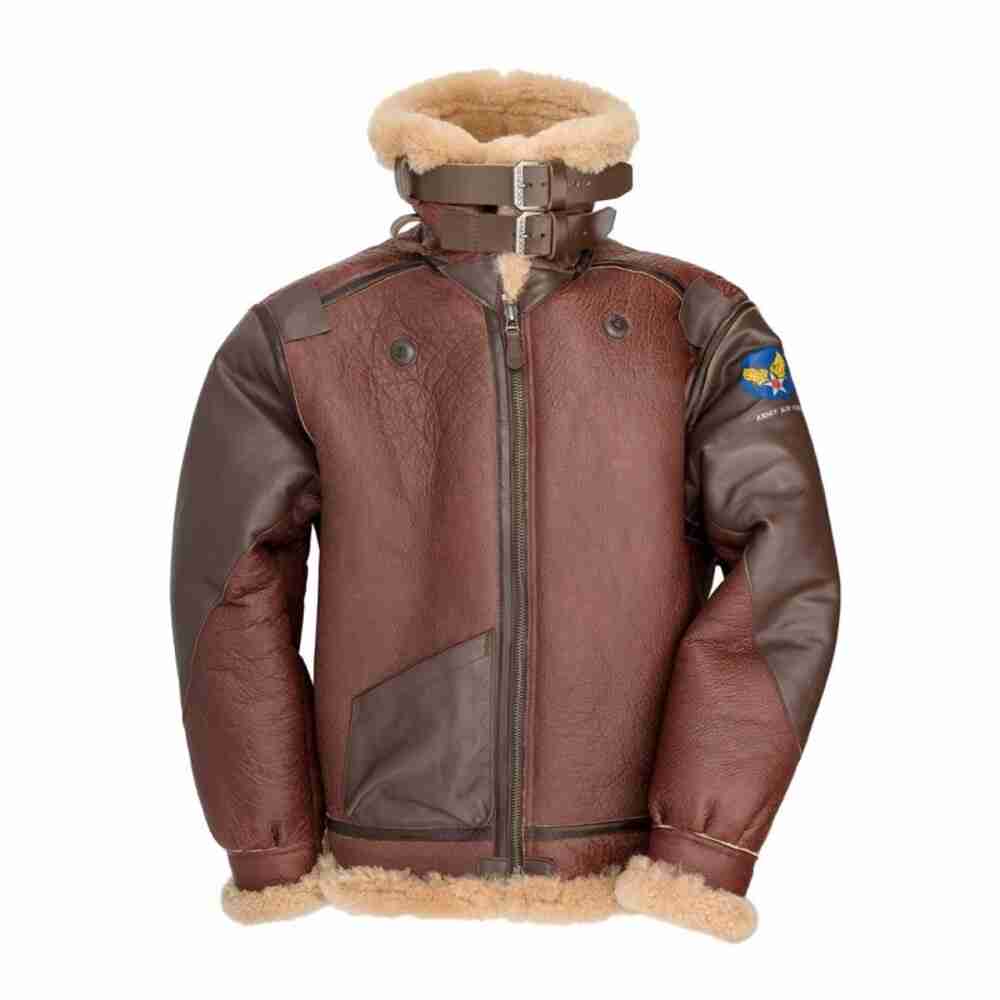 If you are looking for something extravagant in terms of jacket and shearling bomber style then you can turn towards a 1941 pearl harbor B-3 bomber jacket. Completely manufactured with high-class leather and thick, supple sheepskin with horsehide leather arm reinforcements, this bomber shearling jacket is everything that you need this winter in your wardrobe – extremely classy yet extraordinary for every out-going!
With a double buckle throat latch, this harbor jacket is patterned after the 1941 issue russet-colored jacket. With that proper vintage look and shading rust-brown color, this jacket looks stunning piece for the chilly weather. The shirt-style collar has also been designed with the shearling blended fur to make the jacket look a decent yet classic piece of garb – A perfect concoction of light and dark brown is to die for!
Furthermore, the sleeves of this bomber jacket are full and have a hemline attached at the bottom of the sleeves and the jacket as well. Zippered closure has been designed for the front to give you a perfect-fit loo. With puffer style sleeves and slit pockets, this harbor shearling bomber jacket is quite impressive and elegant to wear for a coffee date in freezing weather. Buy this jacket right on sale!
Shearling Blue Leather Jacket:
Are you looking for something very comfy and luxurious at the same time? Then you should go with the option of a blue shearling leather jacket that is manufactured keenly with the leather material. Since the outings in winters can feel so chilly and freezing, you need to have something in your wardrobe that is highly comfy and cozy with warm viscose lining and a fitted front zipper.
This amazing piece of blue shearling leather jacket is further lined with soft viscose fabric from the inside to make you feel easy. Also, this viscose lining would make you feel breathable and highly secure from the freezing winds. With full sleeves and front zippered closure, this blue leather jacket would make your personality look instantly cool and confident.
Moreover, to make the jacket classier and to bring the inner heroic touch out of you, this leather jacket is designed with a shearling collar around the neck. The notch lapel style of the collar also elevates the overall appearance of the jacket. Zippered pockets and padded style sleeves are also designed over the jacket to make it the most eye-captivating outfit. You can avail it right away on sale by placing the order.
Men's B3 Shearling Flight Jacket: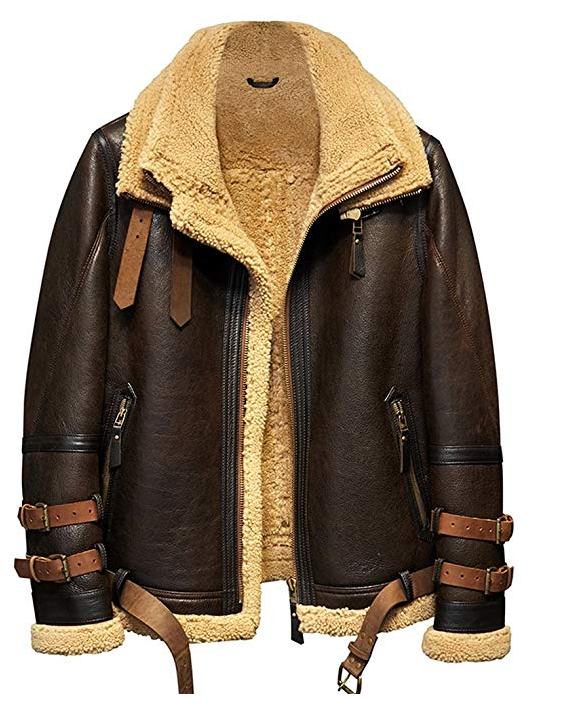 Winter is the only season when the only prime outfit is a leather jacket or a leather coat. If you are searching for a type of jacket that is different from the biker style then you can go with a shearling flight jacket. This extravagant piece of jacket is made up of pure genuine leather exterior and is lined with viscose and soft material. This would help you to stay cozy and warm in the wintery weather.
Crafted with the open-front zippered closure style and full sleeves, this jacket is truly a trending piece that would keep you in the spotlight. Shearling fur-lined cuffs and buckle belts over the sleeves make this jacket outclass. Moreover, there has been a shearling fur lining throughout the jacket and a hemline is also designed right on the bottom of the jacket.
Zippered pockets have also been crafted on the front to make it easier for the wearer to carry his necessary items. With dark brown and light beige color, the men's B3 shearling flight jacket marks an ultimate style and class for men in terms of a shearling leather jacket. Buckled style straps and collar of the jacket make it a more stunning leather jacket piece that you can wear this winter!
Alberto White Shearling Black Biker Jacket:
Coming to another top pick of shearling leather jacket – Alberto white shearling black biker jacket. Yes, you got this right! This extravagant and ravishing piece of the jacket is a perfect blend of biker and shearling leather jackets. Made up of pure leather and lined with faux fur material, this shearling jacket deserves to get a place up in your wardrobe this winter.
Since shearling jackets are always a crowd puller and look appealing enough, you can hold on for that attention like a devilishly handsome guy around. This white shearling comprises a notch lapel style of shearling collar in white color that would take away the heartbeats for sure! Full sleeves with zippered cuffs and open front zippered closure, this black biker shearling jacket is totally a power-pack!
Moreover, you can carry your essential items in the zippered pockets that are designed on the outer side of the jacket. Available in handsome black and white color, this piece of garb is truly outstanding and would be looking trendy enough in a friends' get-together. Jazz up your wardrobe and your personality altogether by getting your hands on this amazing shearling black jacket.
Riverdale Cole Sprouse Grey Denim Jacket: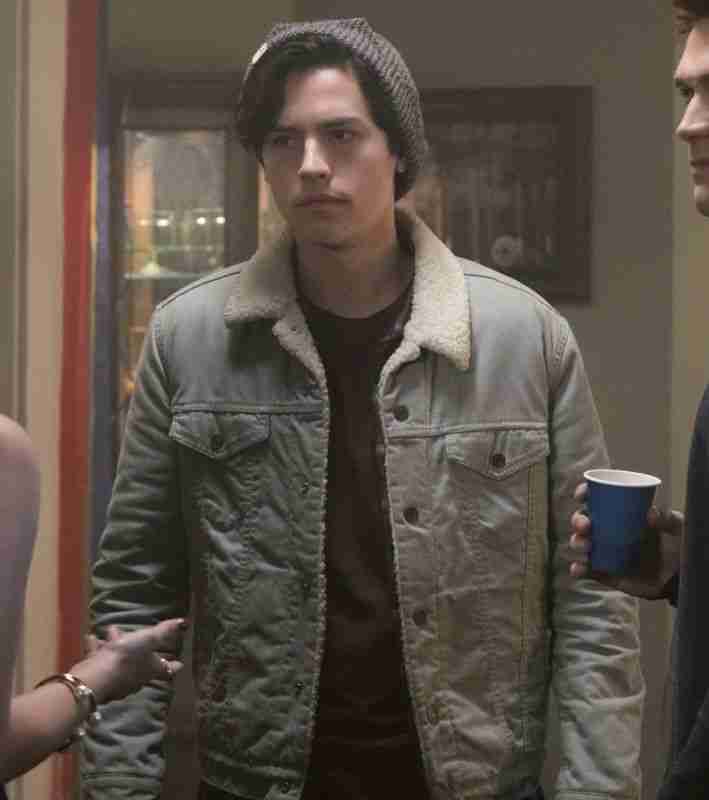 Have you watched Riverdale? That 2017 drama series adapted from Archie based on the genre of mystery and crime has stolen so many hearts due to its phenomenal cast and outstanding acting. Handsome Cole Sprouse playing the character of Jughead took the limelight of the show because of his power-packed performance and his classy features took away the heartbeat of so many girls!
Cole was spotted wearing an amazing grey denim jacket that was having a shearling collar. The jacket instantly became the talk of the town just like his character and now people are replicating his looks. Made up of suede denim and lined with soft viscose material inside, this jacket further comprises full sleeves that are accompanied by open buttoned cuffs.
The front of the jacket is designed with the open snap-tab buttoned closure and two front flap pockets are also given for the ease of carrying essential things. Since denim is also in fashion nowadays so one can wear the denim jacket designed with the shearling collar and can steal all the hearts. Heat the surroundings with riverdale cole sprouse grey denim jacket right now!
FINAL TAKEAWAY:
The aforementioned 5 jackets are top shearling jackets for men that they can wear this winter and can spice up their closet with the best shearling leather jackets now! Shearling leather jackets are always going to stay in trend and you will always look fantabulous with your smart fashion approach.