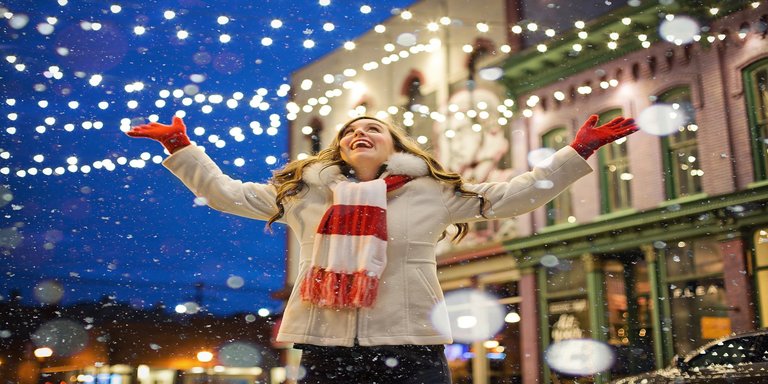 Are you bored of attending Christmas parties dressed as Santa or even his elves every holiday? Or worse, you stay away from all the fun only because you do not have outfit ideas? Well, do not worry because you are not the only one who feels this way about the holidays. The holiday season is the busiest of the year and with all the shopping and decorating it becomes quite hectic. It is nearly impossible to take out the time to also make a costume amid the hustle and bustle. So, if you are tired of a standard Santa Claus, we have some creative ideas to help you out. There are certainly a lot of  Christmas outfits to choose from. And they can be put together without a lot of effort or money. We have dug out a few flamboyant costumes and some more neutral outfits to celebrate in style. Pick your favorite from the list and get ready for the festivities!
The Christmas Tree
First on our list of Christmas party outfits is something which is the center of attention of any holiday event. Christmas certainly won't be complete without a fir tree decorated with all the tinsel and baubles. It's a cheerful costume that suits the happiness of the season. Fun, youthful, and vibrant, it sums up all you need in a Christmas outfit. Plus, it will also keep you warm and cozy for evening get-togethers. All you need is a tree green jumper, dark leggings, decorations, and a start to finish it off.
The Grinch
How the Grinch Stole Christmas is a movie that we all know and love since childhood. A classic by Dr Seuss it conveys some important heartfelt messages while keeping the fun intact. This idea can both work for an individual and the whole family. Turn adults and children alike from your family into the Whos of Whoville. Or it can also work well if you dress up as Grinch himself. Cindy Lou and the dog Max will be the perfect companions to your character.
Snowwoman
A great outfit for the ladies to knock everyone's socks off at a Christmas office party. A snowman might not sound alluring but wait till we tell you our idea. The things you need are a long-sleeved white shirt, white frilled skirt, stockings, and black boots. Additional accessories will be oversized dark buttons, a top hat, and a red scarf. The cute guy from the IT department? He is sure to do a double-take when he sees you sporting this cute and sexy look.
Plaid Outfits
Now for something classy for ones who are not all-out fans of costumes. Plaid and red hues are a staple for the holiday season and look good with all neutral shades. A must-have for any festive occasion this color and pattern can be styled in a number of ways. A pinafore dress in plaid is an outfit that looks both elegant and girly depending on how you accessorize. Pair it with charcoal, black or white high neck underneath and the outfit will be magazine cover-worthy. Another option is the plaid skirt which also looks stunning with a plain red turtleneck. They are a Christmas classic that looks great without much effort. An easy way to look fashion-forward and sophisticated just bling the outfit a bit with a minimalist necklace. Layer the outfit with a Christmas jacket to keep out the chill winds. For the guys, there are also several options when it comes to plaid. It keeps you warm and is perfect for a raw laid-back style. Especially great for layering, men can also wear plaid in various ways. Go for an outdoorsy vibe with army green pants, a black tee, and a plaid shirt topped with a navy waistcoat. For a more runway style look, wear a black hoodie with black jeans with tan boots. Use a red plaid shirt as an upper layer to finish off the look.
Christmas Jumpers
The last item on our list for your Christmas wardrobe is the traditional knitted jumpers. They are comfortable, snuggly, and look great with just a pair of jeans. Not even the most expensive or trendy costumes can beat the feeling of warmth it brings. It is an outfit in which you can lounge around the fire with all your friends and family. Therefore, this is basically the best outfit you can choose for the holiday season. Here completes our list of Christmas costumes and outfits that you can easily put together even at the last minute. We have something for everyone so surely you will find an outfit to your liking. Christmas is a time of good cheer and enjoyment with friends and family. You can have a more enjoyable time if you are comfortable and look your best.