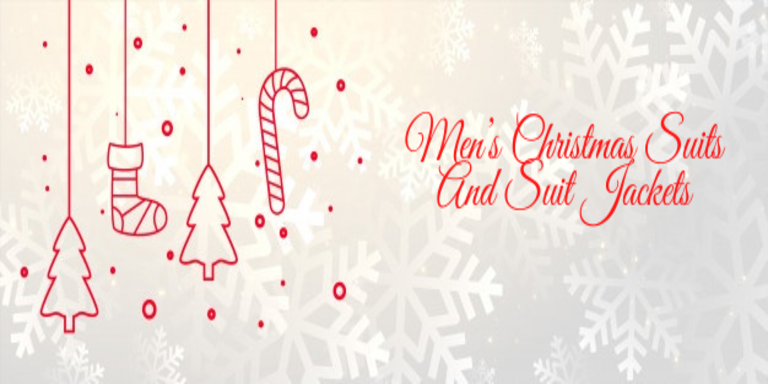 The Christmas season with all its joy and cheer also sends at least a couple of party invitations our way. It could be a family gathering you are summoned to or need to attend an office party. The most important dilemma at these events is what to wear. It's particularly difficult to find the appropriate Christmas clothes for men. A Christmas sweater might look too loud and garish in an executive environment. While a formal blazer will not suit a night of drinks around the fireplace.
Then how to achieve a balanced sense of style? We are here to get you prepared for attending all the events of this holiday season. Without deviating from the dress code, you will be able to channel your own personality through the look. We will show you how to put together a matching Christmas outfit or styles that complement each other. The finished ensembles will be incredible enough to amaze your friends, family, or colleagues.
Smart Casual
Christmas parties with a smart casual dress code can be pretty tricky. But they let you combine a laidback style with formal clothing. A comfortable pair of trousers and a basic tee with an unbuttoned shirt on top works well for it. For a summer look, roll the sleeves up and go for light shades like a white or pale blue. When the weather is chilly, create a classy blend by donning a slim-fitting blazer as a layer. To keep it casual, switch formal shoes with cool high-tops. This outfit is a perfect one for both dinner parties or to show some dance moves on the floor.
Casual
A night out with friends or colleagues on Christmas calls for a casual dress option. You can look great in just a T-shirt, trendy jeans, and sneakers. Proves that you can still rock some fashionable vibes in simple and comfortable clothes. If your outing is timed for the evening, dark pants with a crisp button-down is perfect. Make sure the shirt is of a lighter color. Pair with chic dress shoes or sneakers. The mix and match of colors and styles will bring some festive cheer to the final look.
Semi-formal
If a Christmas party dress code is "semi-formal" it can get us pretty confused. But we have the solution for this panic-inducing moment too. All it takes is knowing about the correct pieces and you will easily master this look. For a day-time event, your Christmas suit jacket and trousers can be brown, navy, light blue, cream, or gray. In case you are not in the mood for a suit, wear separate pieces. Put on a dress shirt, a blazer with a pair of trousers and formal shoes. Ties are an optional accessory in this style.
Black-Tie formal
A black-tie event is in other words a very sophisticated and elegant affair. So, you need to give some extra attention when dressing up for an occasion like this. A formal party requires the guests to be sporting exceptionally tailored clothing. Dress shirts and tuxedos should be your apparel of choice for it. A peak or shawl lapel excellently flatter the shoulders, while suits should be of a darker shade palette. Finish the outfit off with a flourish with a pocket square or bowtie. This look also has the room for experimenting with different fabrics. Go for a touch of silk or velvet to stand apart amid the crowd.
Business casual
A business casual dress code lets you play with the clothing options a bit more freely. It is a traditional official style look which you can put together with a suit and button-down shirt. Not a fan of a two-piece? Just swap those formal trousers with chinos and finish them up with a blazer. For a polished look that encompasses your toes as well, wear a pair of loafers, Oxford shoes, or brogues. Style wise, this outfit will promise you a night of panache and comfort with minimal effort.
Winter Christmas
On the topic of the holiday season, it's time to focus on a party that has no theme but Christmas. Christmas parties are great in the sense that you can dress fancy and yet still be comfortable. A casual event calls for a blazer with a snug turtleneck underneath. A wool scarf and overcoat will keep you warm when you step out. An appropriate recipe for looking festive and smart. The best shades for this attire will be blue, brown, or gray.
Our style advice to attend any event this holiday season comes to a close here. This guide accommodates both pricey and cheap Christmas costume options. Hence, there is something to fit in with every kind of budget and style. By adding a few personal touches here and there, you can make these outfits purely your own style.