Which is an iconic jacket that comes foremost in your mind when you think about Hollywood? The list is endless from Diana Ross's signature ivory trench to Rene Russo's camel coats and blazers in The Thomas Crown Affair. What are the things that make these looks so irresistible? Little things like material, color, buttons, and length build the character of these ensembles. These details inspire us the most and make us imagine ourselves carrying off these looks. Therefore, we have compiled a list of famous looks from movies to help you integrate them in your wardrobe. To get the original pieces will of course break the bank. But you can get similar looking pieces that are more affordable to revamp your closet.
Casablanca

The trench coat has had its appearance in several films throughout cinema history. But its biggest role has been with Humphrey Bogart's character in Casablanca. The suave, laid-back Rick Blaine was a man of few words. Most of his expressions were integrated into his attire and gestures. The look is one that reflects both mystery and modesty if carried off properly.
Butterfield 8
Elizabeth Taylor is kno
wn for her gorgeous outfits that went flawlessly with her phenomenal beauty. Her character Gloria Wondrous in the movie Butterfield 8, wore this stunning cream cashmere coat. It's enormous fur trim exuded glamour and made it a statement piece. You can imitate the style with the same colored faux leather coat with shearling trim. This is quite an exotic look to pull off when it comes to leather jacket women. However, it will give you a bold and confident feeling unlike any other.
The Matrix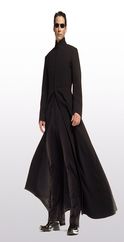 We have all been mesmerized by Keanu Reeves and Co. in Matrix and rightly so. Because the special effects and costumes of this movie are still up to standard. Skin fitted bodysuit, slim framed spectacles, and a black leather jacket were the staples of every character wardrobe. The tough, no-nonsense vibe channeled by these outfits continue to inspire fashion designs to this day. You can easily recreate the look with a croc-effect leather coat with black jeans and a tee. A dark monochrome look that does not take much effort to put together.
Brown Sugar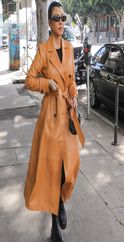 In this 2002 movie, Sanaa Lathan plays an editor in chief of a music magazine. She starts to slowly fall for her childhood friend Dre, who is a recording executive. Being bosses in the music industry they also dress like them. One of Syd's cool, hip hop looks included a beautiful brown leather jacket. An easy to wear style that you can integrate into your daily work wardrobe without much thinking. And it will automatically elevate your fashion meter. Deviate a bit from the short jacket look and get a brown faux leather trench coat with a belted middle. This will be a bit dressier take on the street fashion style of the original.
The Devil Wears Prada
We are doing a list of Hollywood fashion and this movie cannot possibly be  left out of it. Anne Hathaway plays Andrea a college grad beginning her career at a fashion magazine. Understandably, a bit further in the movie, Andrea parades a lot of stunning looks to match her job. All her outfits are simply the height of elegance but most eye-catching of all is the white wool coat. A tie-front long length beauty that will look amazing with high heels and a chic bag. A basic wool-blend coat will easily help you recreate the style.
Out of Sight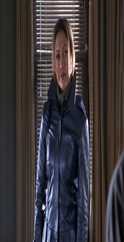 A movie with a star-studded cast, we have the likes of  Jennifer Lopez, Catherine Keener, and  George Clooney gracing the screen. The leads are all sporting the trendiest looks of the late 90s. However, Jennifer steals the show with her fitted black leather coat. A never-dying style that still looks ship and fashion-forward in 2020. You can go along the same lines and get a men's leather jacket to carry off the smooth elegance. Or go for a longer silhouette with a leather trench coat that makes you look mysterious in the dark. A great look to carry off on casual occasions, or on an evening out with your date.
These were all the fashion tips we had for you inspired straight from the cinema. The world of movies is glittering and dreamy and we all wish to add some of it to our lives. Outfits are a way of expressing yourself. And they give out a message about the kind of person you are. Thus, blending in the fashion choices of your favorite celebrity or fictional character makes your look stand out. The best thing about it is that you can even change it according to your moods. The trick is to settle for a style that makes you feel good about yourself.