Emily in Paris, yet you all, around the world, loves dressing up in classically appealing tones. We all know that Emily has already caught the hearts of many via her acting while some got crazy for the famous actress due to the way she did flaunt on the screen. Bright hues, perfectly paired, unique designs, and flawless outfits made everyone fell for Emily. Who doesn't admire a personality with good dressing sense? Of course, we all do! Since winter is just around the corner and we all need to upgrade our wardrobe, a few of you might demand Persian outfits, as the trend is going all viral.
Though, we all know that setting out a winter wardrobe is one of the difficult tasks, what to choose what will be more appealing, how to pair it up are the kind of thoughts that put people in big confusion. Why not take inspiration from any famous icon instead of investing your huge time in window shopping.  Yet when your all-time favorite icon, Emily in Paris' outfits are already striking all around the globe then why not opt for this option. Let's discuss every coat or outfit of Emily because why not? Each option from Emily in Paris is worth to be considered or discussed. So, it's time to look for better dressing options rather than choosing the same-old-boring winter clothes. Hook up because we will discuss all Emily in Paris jackets and coats to make your wardrobe upgrading process trouble-free.
Hot Pink Long Coat- Flaunt With Brightness 
The hot pink coat is all enough to steal the charm of your night party or to enhance your diva in daylight. This winter piece and the most famous style of Emily is made with a blend of pure wool with an attached viscose inner which makes the grace of the coat more comforting. While the coat is designed with a serrated collar style, aligned with a sequenced front buttoned closure. Light-fitted long sleeves and open cuffs also oomph the beauty of the coat whereas, two flapped pockets on the front closure and two inner pockets are enough to carry your important stuff.
HBA Jacket- Create Your Style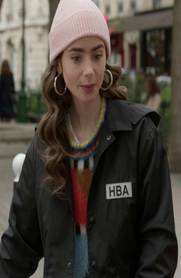 If you are looking to dress up in some coolest tones then this HBA jacket of Emily will be the perfect-choice-to-go. This bottom-cropped jacket is tailored with good quality cotton material that is perfect to be paired with your woolen inner or sweatshirt. The jet black jacket with longer, yet lightly fitted sleeves has an open closure with rounded buttons, aligned sequentially at the front side. While there are two drawstrings attached at the bottom of the cropped jacket and the beautifully crafted typo logo of HBA enhances the coolest jacket vibes. Get your hands on this unique jacket and rock, just like Lilly Collins did.
Floral-Puffer-Jacket-Wrap-In-Uniquely
This one jacket of is the most unique among all the jackets Emily wears in the series. This puffy winter wear is made with the original polyester material which an attached inner of viscose. If you are skinny then this jacket can be your first choice as it creates a little puffy look as it is made with pure polyester material. Whereas, the style of the collar with front zipper closure creates a symphony of elegance. Though, a unique floral print adds a little bloomy touch to the jacket. Attached pockets and long hem-cuffed sleeves complement the overall style of the jacket.
Houndstooth Coat- Look Different, Feel Different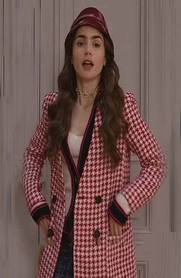 If you love being different from others and looking for some fresh ideas to wear then this Houndstooth coat from the Emily in Paris should be on your checklist. The coat is tailored with pure wool blend material while its collarless neck crease with long V-cut and four buttons, aligned in parallel position oomph's its uniqueness. Also, there are attached pockets on the left and right sides of the coat. So, if you are the one who likes wearing unique fashion outfits then feel free to add this coat from the famous Netflix TV season to your wardrobe.
Checkered Sweater- Play It Right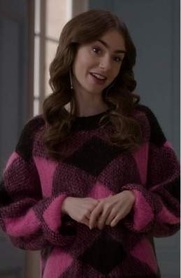 When it comes to being tricky, nothing else could beat anything other than the checkered pattern. The same goes for the sweater of Lilly Collins. The checkered sweater, in muted hues of pink and black, is all you need to bring on your vibrant personality. The sweater is knitted with a round collar, long sleeves with wool-knitted cuffs enhance the vibes of elegance.
Ok, it's time to give a big shot to wrap up. We have suggested all top-notch jacket designs, inspired by Emily in Paris. Start picking favorite ones and add to your to-do list. Because, winters are here and we surely know that no one of you would like to miss this chance of looking audaciously bold yet elegant in winter outfits, just like your favorite character does.