Where are all our mystery fans? The Season 3 of Only Murders in the Building dropped on Hulu in August, and people can't stop gushing about it. Besides the plot, there's another reason for the immense popularity of the show – Selena Gomez outfits!
Our Mabel Mora is a true fashion icon, and we can't help but drool over her looks. Feel the same way? Welcome to the club! The latest season gave us another glimpse of Mabel's tastefulness when it comes to dressing up.
But enough of looking at Selena's outfits with eyes full of longing, it's time to do something about it. Surprisingly, recreating her ensembles in Only Murders in the Building is not that much of a challenge.
Read this blog to discover her top 8 outfits and how you can refashion the same look!
Why Mabel Mora's Outfits Are The Talk Of The Show?
When the show first hit our screens a couple years back, it instantly became our favorite. It stars Selena Gomez, Steve Martin, and Martin Short in the lead roles. The synopsis revolves around the three teaming up to catch a murderer on the loose in their Upper West Side apartment building.
Even though the idea was to keep us guessing and laughing through the show, Selena Gomes Outfits unexpectedly stole the limelight. Her style is more like an on-screen indication for setting her apart from the other two protagonists, Charles and Oliver.
Her fashion sense also gives us a sneak peek into her interests and personality. Considering that she's usually an enigmatic character, it makes sense for her to have a unique wardrobe – it makes Mabel more accessible to us!
The Best Of Selena Gomez's Outfits From Only Murders In The Building
The Yellow Outfit + Beats Headphones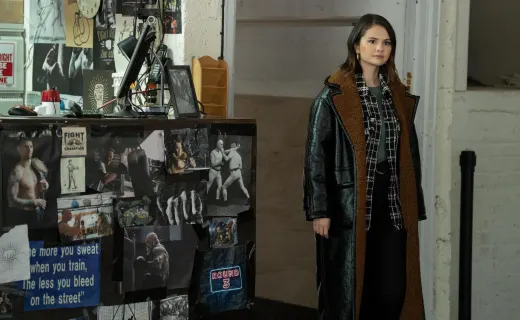 In the introductory scene, she's wearing a yellow sweater and orange coat, paired up with plaid pants and a hat. Not to forget – the red Beats headphones that make her look more intriguing. Now that we have broken down the outfit for you, you shouldn't have trouble recreating it!
P.S.: If it's freezing outside, consider wearing Selena Gomez Only Murders in the Building Black Leather Coat. Don't worry, it won't ruin the look – instead, it will look like you mixed and matched some of her outfits!
The Infamous Dress On New Year's Eve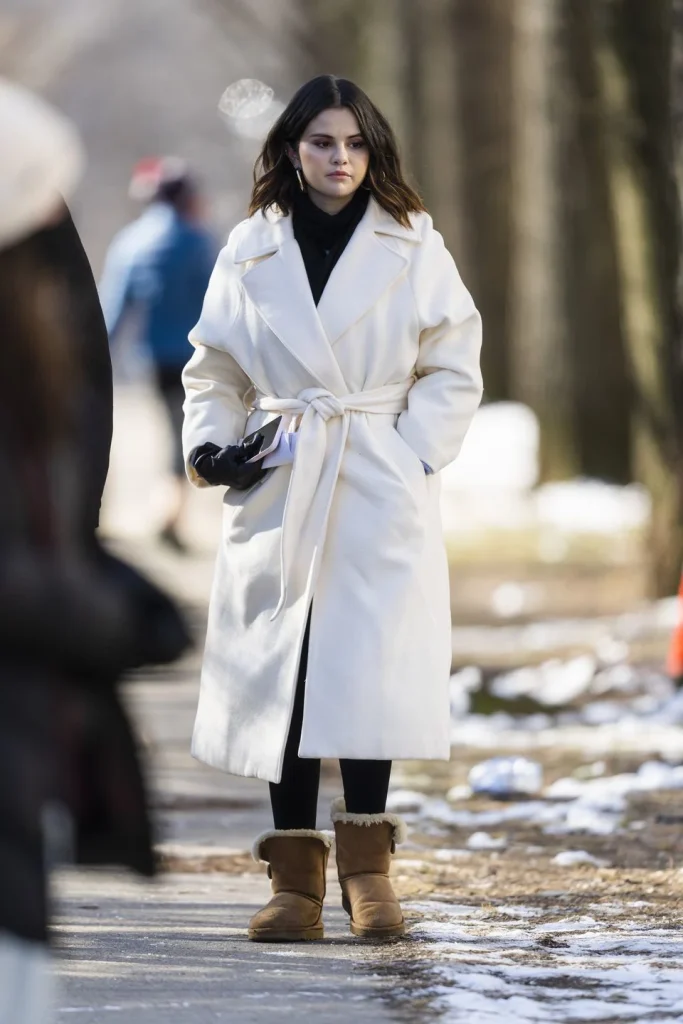 In one scene, we learn a really big secret: Mabel and Tim Kono were friends when they were kids. In this moment, Mabel is all dressed up in a shiny dress for a New Year's Eve party. She has pink streaks in her hair, which shows that she's artistic.
Her outfit is different from how she looks now, and it helps us see how much she has changed since that night. You can buy a similar dress from anywhere, and since New Year's nights are chilly, complement it with an Only Murders in the Building Selena Gomez White Coat.
Painted Overalls
Remember the scene where Mabel is working on an artwork for one of her apartment walls? The art-splattered jumpsuit she's wearing in that scene is one of the best Selena Gomez Only Murders in the Building Outfits. Granted, it may not be as chic as the rest of her attires, but this one introduces us to her natural side.
She's in casual clothes, hair wrapped up in a bun, painting, and thinking about her current situation – doesn't this make her character more relatable? You can easily make this outfit your own by splashing some fabric paint on solid, neutral overalls!
The Buckled Skirt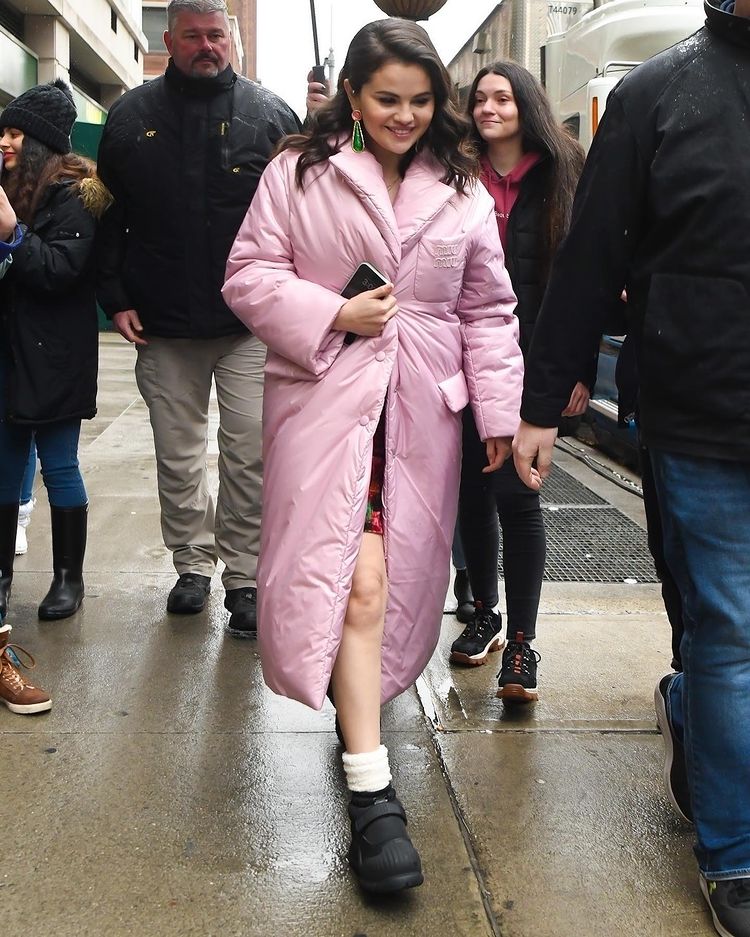 Mabel wears a lot of skirts in the show, and one of them is a taupe-colored skirt with a buckle. She wears it with a black turtleneck, tights, and chunky black lace-up boots. This outfit looks really well-coordinated, even though Mabel is going through a tough time during the investigation. You can also throw on the classic Selena Gomez Only Murders in the Building Pink Puffer Coat over this outfit for an added touch of authenticity.
The Comfy Red Sweater
In a show set in cold New York winters, it's no surprise that Mabel's wardrobe is filled with warm and comfy knit sweaters. One of her standout outfits is a vibrant red sweater that adds a pop of color to her look. She pairs it with jeans and a wide black belt.
Her bright and colorful outfits make her stand out from the rest of the characters, whose fashion choices are often more muted. Like all other Only Murders in the Building Outfits, recreating this one is no rocket science either!
The Vinyl Trench Coat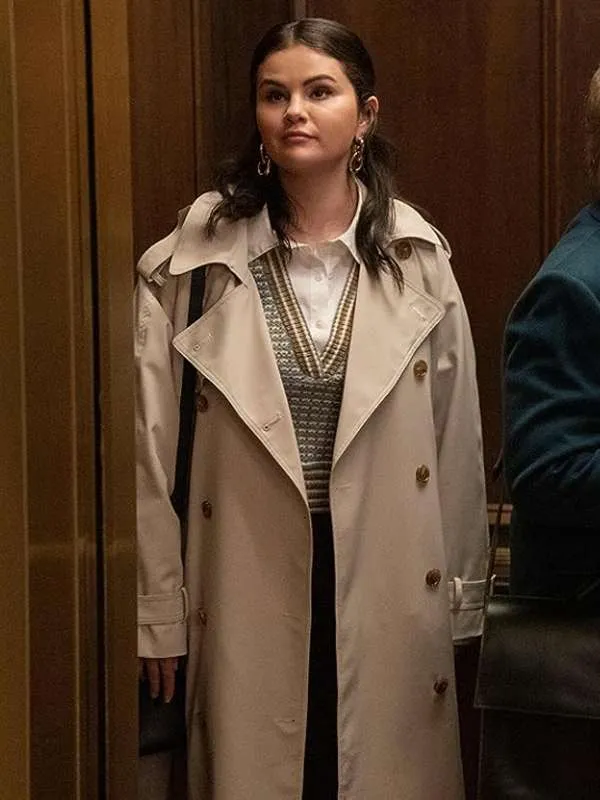 In one episode, Mabel rocks a stylish long burgundy trench coat with a vinyl-like finish. She matches it with a cozy cream turtleneck and her signature hoop earrings. This outfit strikes a perfect balance between being practical and fashionable.
To recreate this look, find a burgundy Selena Gomez Only Murders in the Building trench coat with a sleek finish, pair it with a cream turtleneck, and don't forget those hoop earrings for a touch of Mabel's chic style with a hint of mystery.
The Brown Fur Coat
In episode 5 of Only Murders in the Building, Mabel ventures out on her own to find answers. She's seen wearing a long brown coat that Oscar describes as "priceless" in the episode's voiceover.
This choice of clothing is significant because, in this episode, Charles and Oliver start to become suspicious of Mabel after learning about her past friendship with Tim Kono. So, Mabel wearing such a remarkable coat reflects her style when she's ready to confront the outside world. If you can't find a similar coat anywhere, you can ask a movie leather jackets store to customize one for you.
The Multi Colored Sweater
When Mabel is at her aunt's Arconia apartment, she always opts for comfy and relaxed attire, like her multicolored rainbow-knit sweater. This outfit gives off a cozy vibe, which Mabel is always searching for throughout the season.
To recreate this laid-back look, find a colorful knit sweater that feels warm and comfy. It's perfect for those moments when you want to feel relaxed and at ease.
Conclusion
This was only a glimpse of Selena Gomez's wardrobe in Only Murders in the Building. The best part about her clothes is that they are not too fancy as she dresses up simply.
So, it's incredibly easy to recreate a Mabel Mora look whether you're heading out for a cup of coffee or a friends reunion. Also, considering the overall theme of her attires, they are perfect for fall!
And since it's just right around the corner, guess it's time for a major closet overhaul. With these ensembles in your collection, you will be fully prepared to welcome this year's autumn in style!