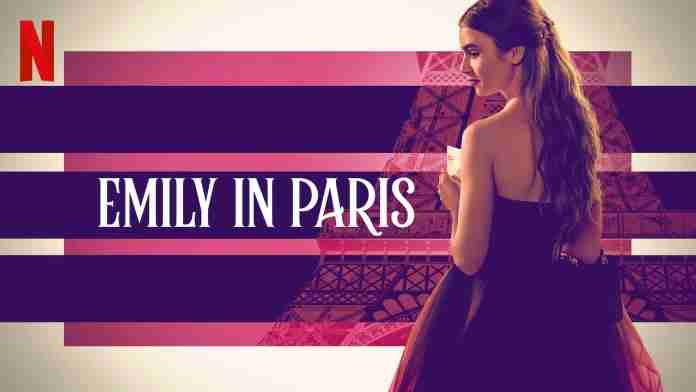 The fashion world never disappoints anyone.
It has a vast ocean where everyone can jump and pick the best jewels according to their taste. The same happened to Emily, the protagonist in "Emily in Paris".
Emily Cooper has been living her dream life – surrounded by her unique American-style fashion taste. Although the way she carries some of her outfits does not go well with the people of City of Lights. Still, she does not care what anyone thinks of her. Pretty cool, right?
It's obvious to expect some chic and hit dressing in the show.
Wonder why? Because the styling courtesy goes to non-other but the honored PATRICIA FIELD. Oh yes, the famous designer of Sex and the City, and The Devil Wears Prada.
We Aren't Here To Decide Whether Emily's Outfits Are Realistic Or Not!
We know it seems absurd for a girl to go to Paris, and start wearing outfits from top-class brands. But here, we are not to judge her on what she carries. Instead, we only want to cherish her fashion style.
In some scenes, Emily has been seen wearing some unbelievable outfits that will bulge your eyes out of extreme horror. While some outfits are so lit that we can't wait to put them in front of you.
Some of the major loopholes in the show include the way Emily is quickly getting an increase in her IG followers. But as we have said before – THIS ISN'T THE CASE HERE…
Discussing Emily's wardrobe – as it is pure perfection.
Her outfits are colorful, and bold; making it the classic hit of all times.
Yeah, we agree – some outfits aren't well to be worn in Paris but don't you think "EVERYTHING IS ON-POINT" for fashionistas? Big time Relatable.
Coats And Jackets Worn In Emily In Paris
The best part we liked about Emily's wardrobe are her jackets and coats. That is why we have decided to list some of her jackets first so you can be sure which one you want to add to your wardrobe right away!
1. Checkered Jacket
This fiery red checkered jacket is perfect to make your mood bang. It is a front-buttoned jacket that will give you a stylish appearance. Just like Emily, you can too slay this jacket like her in Paris. (Is it your dream too?)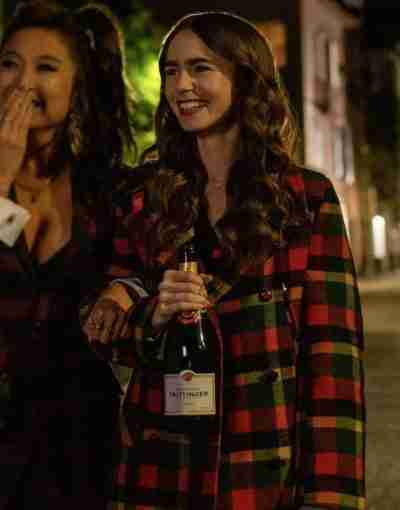 2. Blue Peacoat
Emily Cooper wore Emily Cooper Emily in Paris Blue Peacoat to slay like a Queen.
She looks like the soft first snow of the season and there is a sweet spark in her as of the sun rays falling at the day beginning. This blue peacoat is manufactured using the best material of wool with a soft viscose lining as an interior to keep you comfortable and trendy at the same time.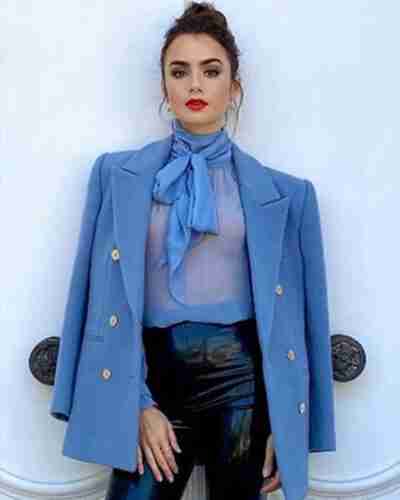 3. Plaid Blazer
The protagonist in Emily in Paris rocked the season giving some extra real vibes as a DIVA by wearing this classic plaid blazer. It features front-buttoned closure with large buttons, full sleeves, and wide lapels giving you a model look. It is totally on you the way you want to style it.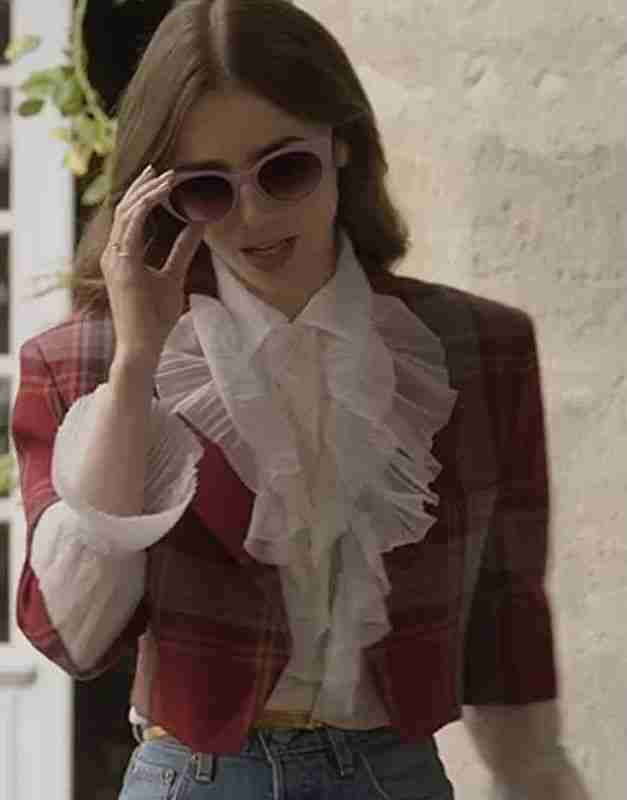 4. Pink Trench Coat
Emily looks stunning wearing this trendy pink wool trench coat. It is manufactured using fine wool material and has some voguish notch lapel collar. It will elevate your fashion sense by its ultra-modern color and chic style. It has become one of the best-selling coats over time that will give you an appealing look.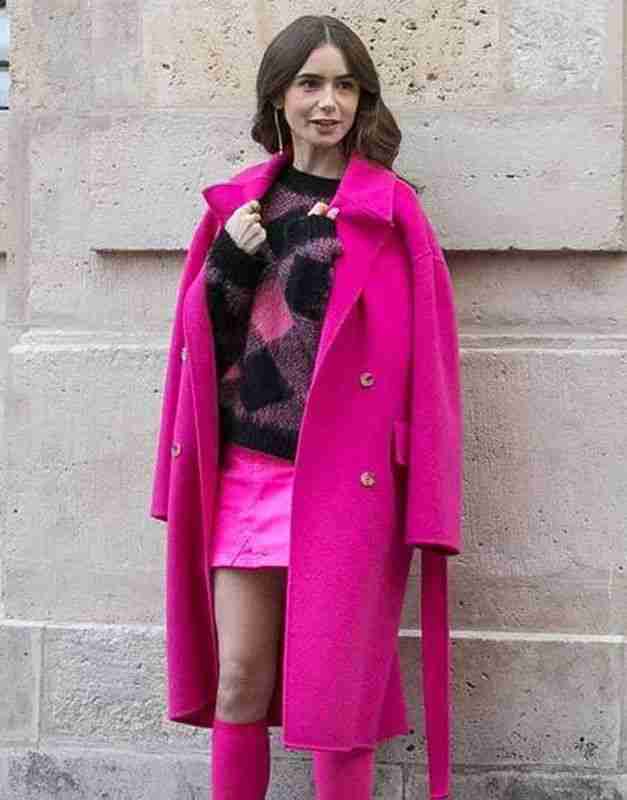 5. Green metallic jacket
OH DAWHH. This oh-so-charismatic green metallic jacket can become your ultimate fashion goal. You will look flawless wearing it at night parties – getting all the spotlight on yourself!!
This unique jacket is searched by the majority of the fans because of its flattering color. So, hurry up and grab yours to make everyone drool over your metallic jacket!
6. Green Multi-pocket Coat
Emily Cooper has worn Emily Cooper Emily In Paris Green Multi-Pocket Coat and it has grabbed the attention of all the people around her. So, if you want to get your hands on something different this year – this green multi-pocket coat is the one. This imitation piece will give you an enchanting look. Once you get your hands on this coat – you will be one of the luckiest people due to its color and unique style. This coat will make you stand out among others. It has several pockets that is a prominent feature of this coat.
SOME OF THE HIT STYLES WORN BY EMILY IN THE SHOW INCLUDE:
Prints are what everyone loves
1. Printed top with a pencil skirt
Yes, it is true people love to carry prints as a symbol of fashion. And we believe that is what Emily did on her first day at the office. She merged a printed top with a pencil skirt with a python-skin pattern on it.
Nah, it does not look cool – but if you are a fashion freak, you can surely know how to smash the dullness out of a bleak day!
2. Black floral dress and puffer jacket
If you want to feel blossom around you, Emily's printed floral dress is what you will be needing. Give it a chance and experience spring during the winter season.
3. A shoe printed jacket
Crazy fan of shoes and sandals? Well, you must go for this coat with shoes printed on it. Otherwise, you can save some of these shoes for your feet (we can see you smiling!)
4. Yellow and black sunny attire
A printed frock with a beautiful bright yellow hue is best to be worn on a sunny day. Fans can see Emily slaying this outfit in the season. And after all, who can go wrong in a yellow dress with black sandals? No one!
Emily has worn some fresh colors to compliment her colorless office.
1. Red Blazer
It is best to wear this blazer when going to parties or hanging out with friends in the club.
2. Green multi-pockets coat
This captivating coat is perfect to carry in a dull Monday evening to cheer up your mood with its colorful vibes.
3. Turquoise blue cardigan
One of the important things is to know which color suits you the best. But if you are a fashion person, you will try every color out there because you can not limit your color buds. During these times, a turquoise blue cardigan will give you an incredible appearance.
Wear the accessories with confidence
From the beginning of the show – the protagonist has been shown carrying an American style although she is living in France. The accessories are on-point, giving a kick to her fashion sense.
1. Straw hat
The colorful straw hat is more in a Parisian style but its multi-colors make it extraordinary in the marketplace.
2. Red beret hat
The red beret hat depicts French simplicity or its revolutionary ideology that gives some superior vibes. The character Emily has been seen carrying this hat with some powerful spirits.
Pink is the color of Paris
The song "La Vie En Rose" by Edith Piaf has become something of a slogan of the French capital. Mostly because it evolved into a way of life that has helped define Paris throughout time. The song's English translation is "Life in Pink," which is perfectly suited for some of Emily's most iconic looks.
1. rosy satin bomber paired with a pastel pink skirt
When Emily's friend Mindy had a welcome party – Emily wore a complete pink outfit. This skirt screams for the sweetness Emily had within her character. This outfit is best to be carried in the city of love where the mist of romance is blurring the entire city.
2. Floral pink coat
Emily is shown wearing a floral pink coat with a plain pink turtleneck. It sprouts the color of love and leaves a deep effect of affection.
3. Hot Pink two-piece attire
This hot pink outfit is becoming a trendsetter. This true piece outfit is getting in demand by many of the fans of Emily in Paris. We are sure it won't disappoint you either.
It is not always that Emily is surrounded by colors.
Instead, we can sometimes even see her in plain outfits. She has marvelously carried all those outfits as well.
1. White crop top
Emily, in one of the scenes, has been shown wearing a white crop top, straw hat, jeans while taking a selfie with Boulangerie's owner outside the shop. She knows how to carry and look stunning in this outfit of the day.
2. Color-blocked sweater
Plain yet Elegant.Solid yet Bold.Multi-color yet Stylish!
Oh yes, the audience has spotted Emily wearing a lovely color block sweater. She paired it with black pants and yellow rubber boots – and believe us, it looks delightful.
Conclusion
Emily Cooper from Netflix's "Emily in Paris" is quickly becoming a fashion icon. Even though she is an American living in Paris, her interesting wardrobe in this series demonstrated that she can dress like a La Fameuse of France!  So, if you're seeking to dress with a splash of color, and a crown of confidence then Emily's outfit is just what you're looking for right now.