People always want to have a classy and stylish appearance at every event. They search for sophisticated yet sensual attires to steal the limelight and to look impressive. Undoubtedly- a leather jacket is the only answer to this search. Indeed, a leather jacket is a must-have investment for every style-conscious and fashion freak. Incredibly versatile and classy enough to make an individual look show-stopper, a leather jacket is vital to fashion wear in all the decades.
Wearing a leather jacket is timeless fashion- an evergreen styling way that can never turn old due to its comfort, fabric, and texture. The leather jacket can be customized in the way a user wants. However, you must keep the pricing range in mind as real leather jackets are always so pricy and expensive. Also, leather jackets are those classy outerwears that can be worn over the casual and formal, both kinds of outfit.
For men and even women, leather jackets are always a good-to-go kind of option.
This winter, upgrade your wardrobe with classic and trendy leather jackets to reflect your aesthetic choice in outerwear. This staple piece available in a variety of styles, from current trending to the retro ones is remarkable enough to make your personality go all-wow. From bomber jackets to flight, café racer to the biker, the range of leather jackets is vast and would fit your wardrobe easily. Make sure to do a selection that would help you in the long run and you could stay warm yet impressive.
Below is a list of 7 leather jackets that you need this winter to gear up your formal wear. You can also pair them up with your casual dresses to look extraordinary for sure! Let's have a look.
Men Light Brown Fashion Leather Jacket: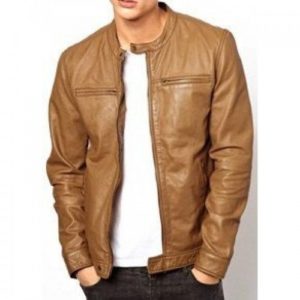 This light brown men fashion leather jacket is one of the iconic options to go with. Pair it up with your formal outfit and leave the open zippered front. This jacket is purely crafted with leather material and its viscose lining makes it soft and comfy to wear. You can also keep your necessary stuff and essential items in the designed pockets given on the chest and waist. This jacket will surely gear up your casual outfit with a bang!
Casual Style Red Slim Fit Leather Jacket for Men: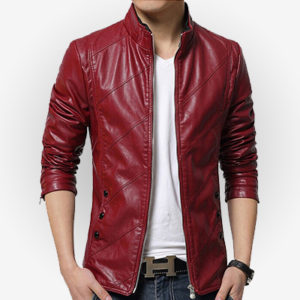 To revamp your wardrobe, this slim fit casual style red jacket is a must. To all the show-stoppers searching for a pure leather jacket, this staple piece is for you. The red color of this man's leather jacket is purely dazzling and will make you look phenomenal. You can pair up this outerwear with your white dress shirts and even t-shirts as well. Its red color will pop out and you would look elegant while all being comfy and warm.
Holidate 2020 Luke Bracey Brown Jacket: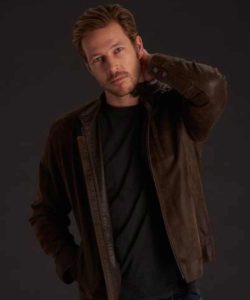 Go for a perfect date evening while all being donned up in the Luke Bracey inspired brown jacket. This incredibly soft piece is crafted with real leather and the inner is lined with viscous fabric. Also, its brown color is cherry on the top to make it look classy. Blend this leather jacket masterpiece with your formal outfits and casual shirts to make it look outstanding. Also, you can enhance your appearance by wearing matching shoes and belt!
X Men Apocalypse Jennifer Lawrence Jacket:
Get your hands on this Jennifer Lawrence's replicated jacket. This style statement is worth buying due to its real leather fabric and comfortable lining. Also, this jacket will bring you style and warmth together. The black color of this leather outerwear is breathtakingly stunning. Pair it up with your favorite top and jeans to enhance your appearance! The jacket also emits some fantastic biker look so acquiring this leather piece is a must this winter.
Women Quilted Pink Leather Motorcycle Jacket:
Biker leather jackets are always trendy and stay in fashion always. How about getting a biker jacket all in pink color? This catchy fashion statement is a must to follow by every style-forward woman. This phenomenal leather jacket is made up of pure leather and its zippered pockets and cuffs are the real star of the show. You will not regret acquiring this leather jacket over your formal outfits.
Burgundy Lewis Hamilton Jacket: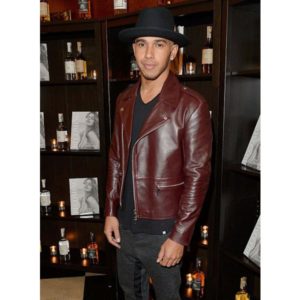 Gear up your bold look by putting on the burgundy leather jacket. This staple piece of leather jacket is comfortable and will keep you warm. Also, you can blend this jacket with your favorite black jeans and shirt. The burgundy color of the jacket makes it stand out from the crowd. This men's leather jacket is all enough to enhance your formal look.
Akira Kaneda Good for Health Bad For Education Jacket: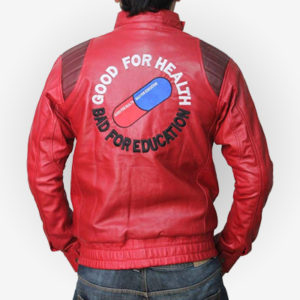 Are you fond of anime? Then donning up in the Akira jacket is the option for you. This stylish piece is purely crafted with leather and you can carry it over your white shirt and blue jeans. The red color of the jacket is the most eye-catchy feature of the jacket making it shine out bright from the causal outerwears.
A QUICK RUNDOWN:
This ultimate guide would help you to get the ideas of those 7 leather jackets that can elevate your formal wear. You can pick any of these options to enhance your looks and personality.