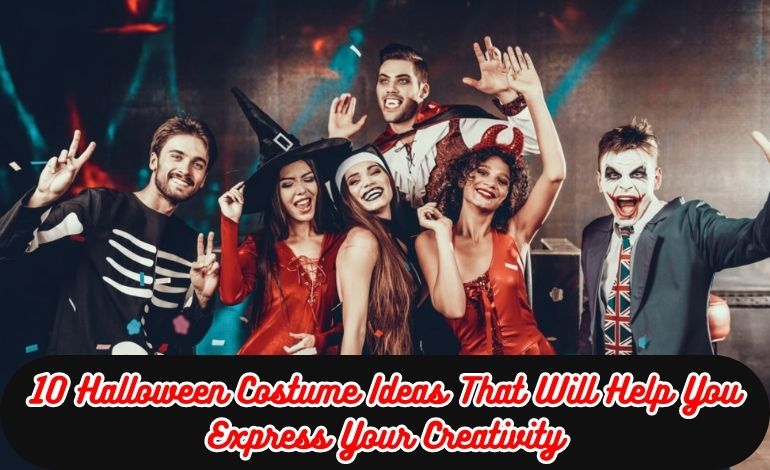 So that time of the year that we are all eagerly waiting for is near – Halloween!
Or you can say the best holidays of the year as you can be funny, weird, cool or just you at that time. And what's amazing is that nobody will be going to judge you. And yes, don't forget about the yummy treats.
So did you decide how you will dress up this time? If not yet, then don't worry about it because we got you covered.
In this article, we will be going to discuss all the outstanding looks that you can create for the coming Halloween party. So keep scrolling and reading.
Steal The Show: Top 10 Halloween Costumes Ideas
Does choosing a creative look frighten you like you scare the people during this festive season?
If yes, then relax.
Whether you want a classy hero look or want to terrify people away with your spooky look, we got a solution for you. We have come up with a few best Halloween costume ideas that will surely catch some eyes. Therefore, without more delay, let's dive into the inspiration we have picked up for you.
Horror Game Characters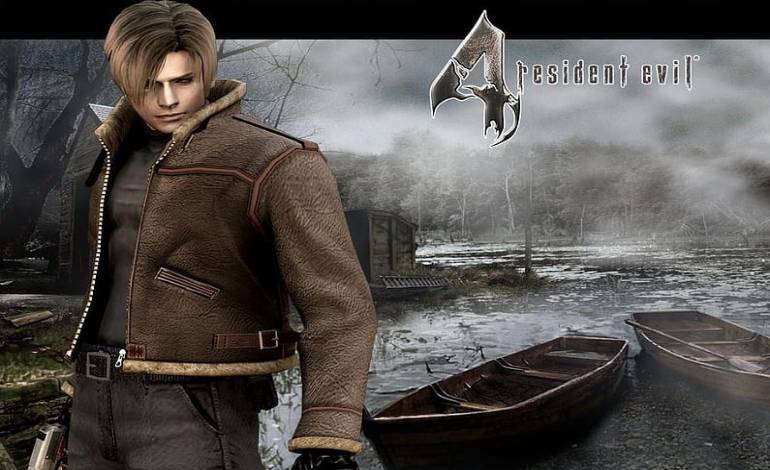 If you are a gamer, then you must have heard about or know about "Resident Evil".
It's one of the top favorite games, as the player experiences a fictional city where they have to solve puzzles and fight zombies. One of the elements that have caught the attention of the people in this game is the Leon Kennedy jacket. So this time, you can create the naive rookie look of this police officer character. All you need is a B-3 sheepskin leather bomber jacket, and pair it with black jeans and a fake gun. And you are good to go.
Moreover, if you got long hair, then it's great because you can compose a Leon Kennedy hairstyle with the help of a straightener. But if that's not the case, then you can also use a wig to look the same as him. With this costume, you will surely captivate the crowd's interest.
Rockstar Or Singer Look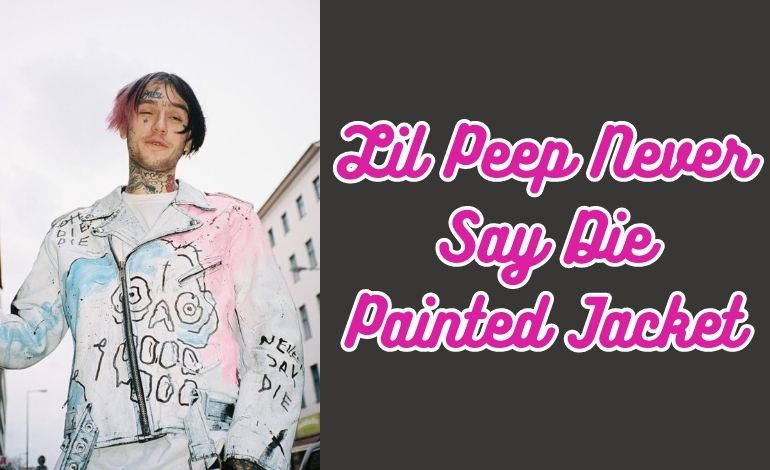 Are you a fan of music?
If yes, so why not wear a costume of your favorite singer or rapper this time? If you love to hear the raps of GothBoiCollective? Then you must be familiar with the Lil Peep jacket. He stood out as a talented rapper known for his unique style and fashion sense. Thus, It's a creative pick for a Halloween look. If a touch of edge and rebellion is your thing, then you must opt for this style.
Moreover, to create this look, you can also dare to dye your hair pink. And lastly, use a pen or paint to add some unique and bold tattoos on your face inspired by Lil Peep.
Super Villain Glance
Heroes are everyone's favorite, but if you are fond of villains, then this is the opportunity to look like one.
Talking of evildoers brings up an idea about a movie that you all must have seen: Suicide Squad. Now we are sure a lot of inspiration starts popping up in your mind. Our best-loved pick is Harley Quinn Suicide Squad Leather Jacket. This character has built a strong impression on young girls. So this season, bring out your inner crazy badass in the form of her costume.
That's not it; you can add a touch of red or blue paint to your hair, too, with a funky makeup look. And don't forget to bring the baseball bat along with you to complete the appearance.
DC Comics Characters
It's time to get all purple this Halloween.
And thinking about this color surely remind you of a DC Comic Villian. So if you didn't try this look and haven't worn Suicide Squad Jared Leto purple Joker coat, then you are missing a great idea. It's an effortless look because all you need is the above jacket, blue jeans, a chain, dye your hair green, and a big smile for an impressive entry.
And if Joker's look doesn't appeal to you, then don't worry because there are many options in the list that wouldn't hit anyone's mind from Suicide Squad. You can choose from Bloodsport, King Shark, Polka-Dot Man, Weasel, or Deadshot. All of them are an excellent pick for a Halloween costume.
Netflix Show Inspiration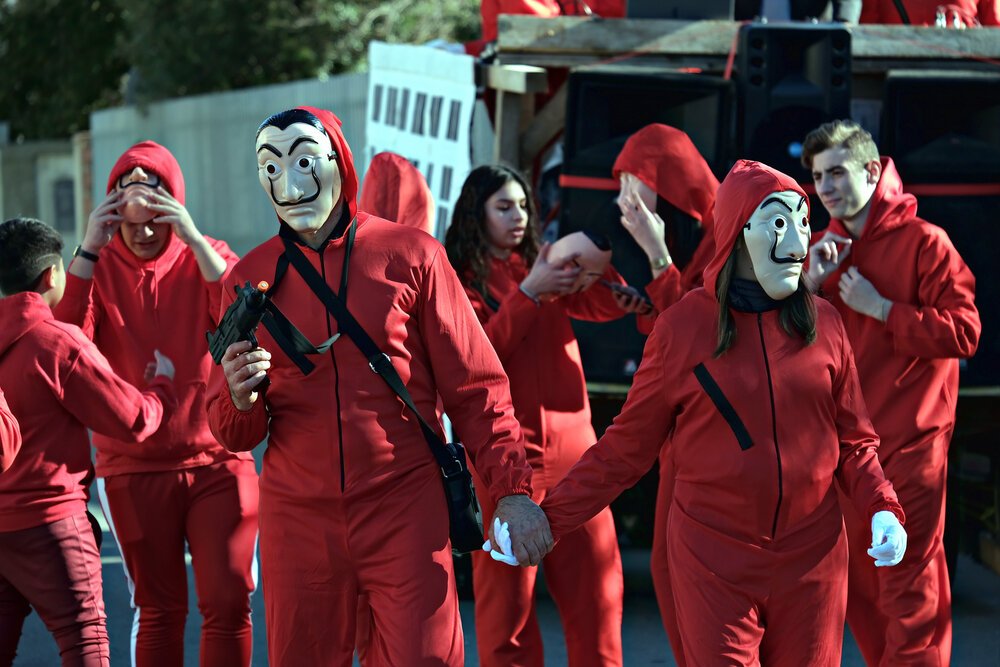 Are you planning a heist to steal all the candies this time?
If yes, then you must look like a robber this time. And for that, you can get inspiration from the Netflix hit show look that is Money Heist red costume. Whether your favorite is mastermind "Professor" or sassy "Tokyo", you can style it in both ways, or you can bring your partner in this plan too. 
Additionally, it's one of the effortless looks that you can create on this spooky occasion, as it demands nothing to lift up the suit's look. So grab your "Dali masks" and a fake gun and enjoy an eye-catchy appearance.
Korean Television Series Characters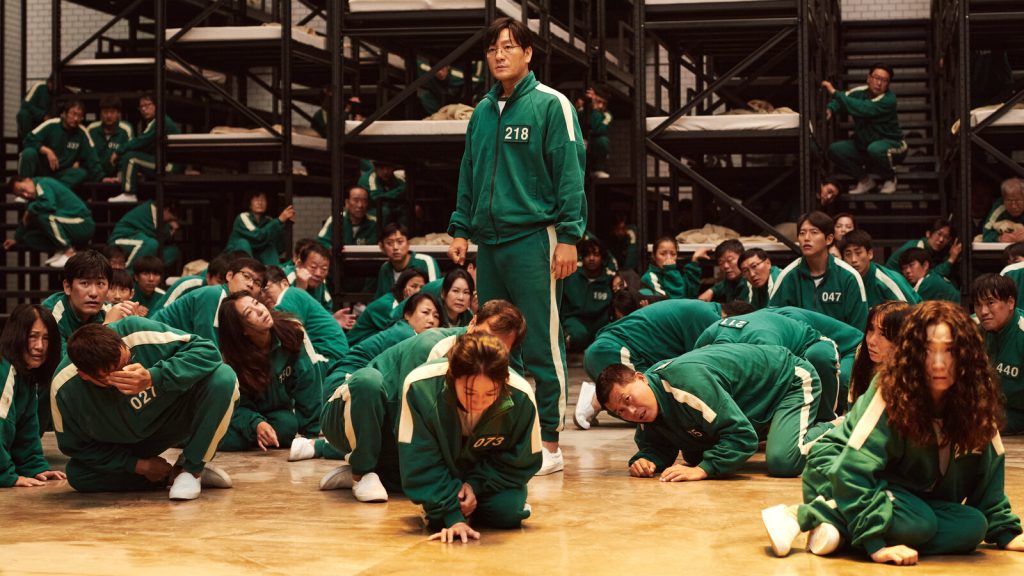 Are you a sucker for the Korean drama series?
If yes, then you must have watched the most famous one, which revolves around a secret contest where people have to survive and play to win. You guessed it right; Squid Game green tracksuit will be a great fit this time to get a creative look. So this Halloween, win the costume of the season award like Lee Jung-Jae won the game. We bet you won't regret it.  
Moreover, if you are looking for something that is comfy and practical, then this is a perfect option for your Halloween look. You just need a cute pair of sneakers, and you are good to go.
Avengers Hero Look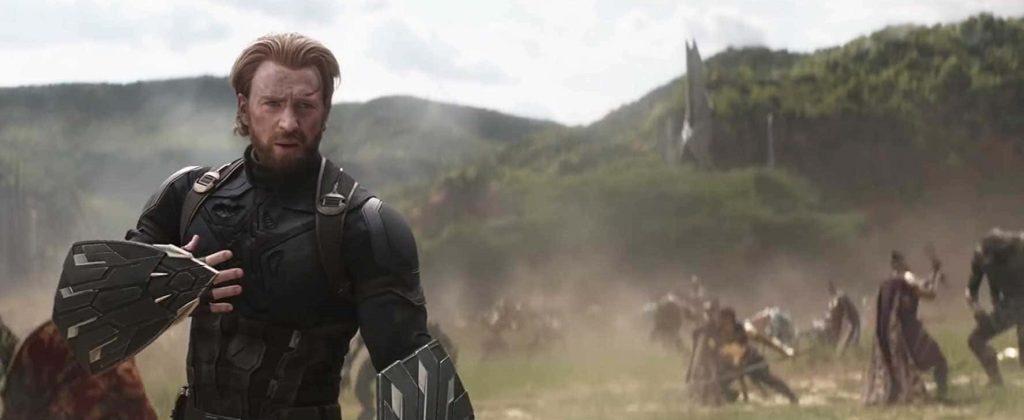 Who doesn't love Avengers?
If you love superheroes and want to look like one, then you can choose the look from a range of characters from one of these movies. The one which fascinated us is Infinity War Captain America Jacket. So this time, represent yourself as a hero by adding a tap of patriotism and energy to your personality with his costume. You will surely impress some of the girls too.
Moreover, Infinity War has set a standard for most of the super hit movies. And it consists of a range of characters to choose an outfit from, as your goal is to exhibit as a good guy. So you can pick any of the Avengers that can charm others.
Horror Drama Characters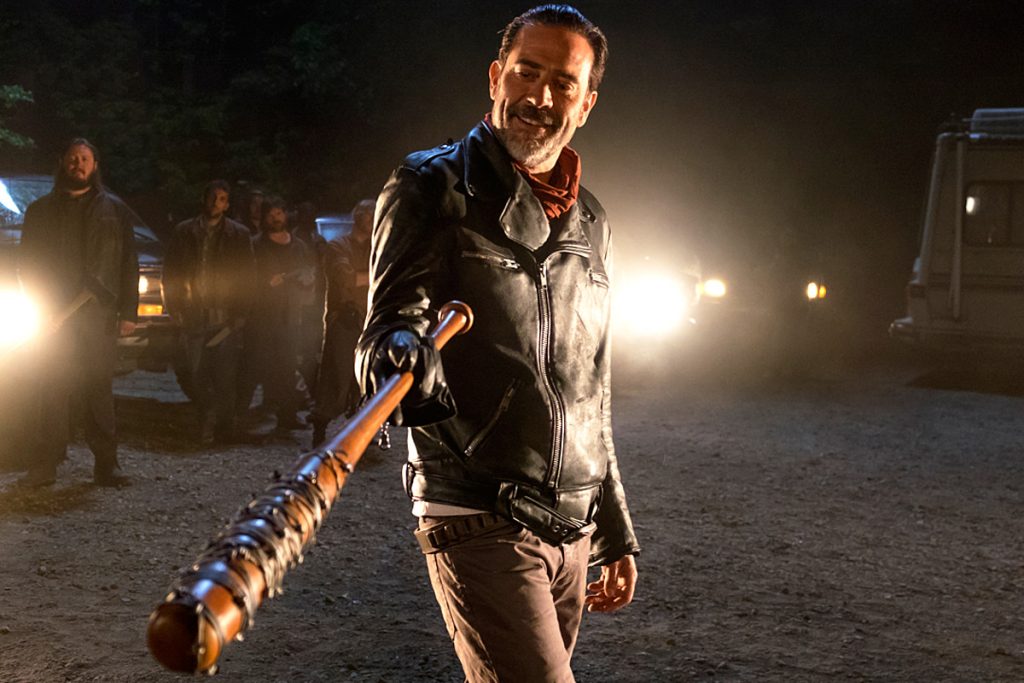 Do you prefer watching horror dramas containing zombies and monsters?
If yes, then this is an excellent chance to showcase yourself as a survivor of those shows and get through all the evils this Halloween. You can style The walking dead Negan jacket and play his character at the party. So this time, gather all your fellows and plan to appear as the survivors of this show. We are sure people will find it one of the most unique costume ideas ever.
So are you ready to defeat all the monsters and ghosts in the coming Halloween? It's a great opportunity to showcase yourself as a hero and grab all the eyeballs.
Inspiration From Ghost Or Skeletons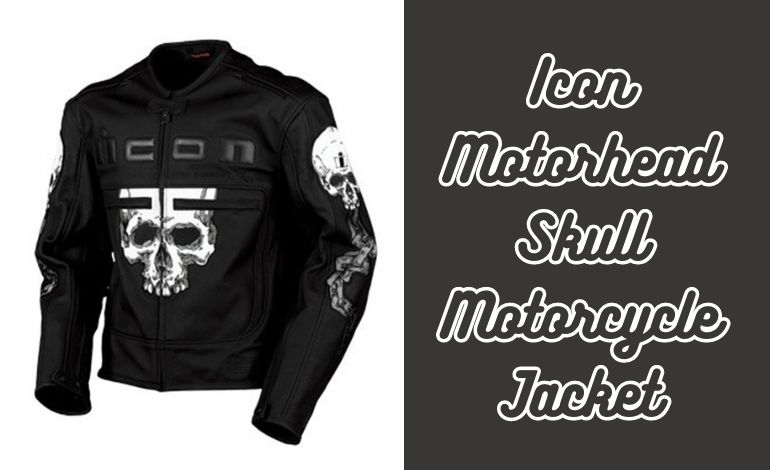 Do you know what makes Halloween fun?
Scary characters, skulls, terrifying pumpkins, and flying ghosts, without a doubt. So why not try a creepy and spooky look this time? You can take an Icon skull jacket and pair it with blue or black jeans. And don't forget to put a scary mask on. It will surely provide a classy ghost rider or a similar look. So what are you waiting for? Ask your bikers crew to attire themselves with this fashionable outwear. You all will surely stand out from the crowd.
Role Play Game Character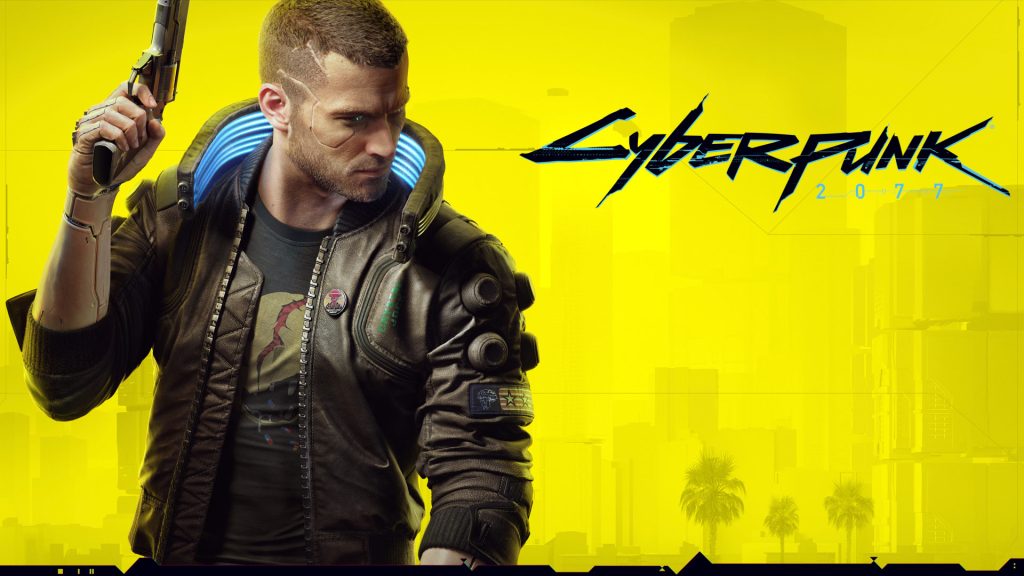 Do role-play games are your thing?
If yes, then it's time to play a role in real life, too, and steal the night. Nowadays, you might hear about one of the trendy games, Cyberpunk 2077. So if you are also inspired by the character V from this game, then the Cyberpunk 2077 Samurai Leather Jacket must catch your eye. It's a perfect fit for a Halloween party, as both males and females can style it. So ask your friends to join you for this do-or-die theme; we bet you all won't want to miss it.
All in all, no matter what look you opt for, the primary purpose of this event is to have fun and express your inner self. So this time, don't fear and dare to dress up uniquely and creatively.
Conclusion
So this Halloween, be creative and think out of the box to create an attractive look, as it's a golden opportunity to showcase your interests.
Dressing up for this occasion is a fun activity everyone should participate in. and with our guide, you can surely get some fantastic ideas to look distinctive from others. To contribute to the spirit of this event with one of our top picks. We are sure nobody has thought about the above ideas. So whether you are planning a cute outfit or a creepy look, you have the freedom to bring any imagination to life.
Additionally, these looks are not just limited to you; you can also ask your partners to dress alike to give couple goals to others. Or if you got a group of friends, then make a team of superheroes or villains and steal the spotlight of the event. So step into one of your favorite fictional characters and enhance the fun of Halloween.